Coping with change is difficult at any age but it becomes more challenging for older adults because of the number of changes that occur such as the loss of loved ones, changes to or the end of a work career, declining health and possibly even some loss of independence.  It is natural to feel anxiety and fear over these major changes; however, this stress can be offset with positive ingredients helping an older adult to stay healthy as they age.
Assisted Living communities, such as Maplewood Village, have much to offer in helping older adults maintain their health and wellness.  The benefits of assisted living range from providing assistance with basic hygiene and nutrition needs to helping senior citizens build new relationships.  A wide diversity of amenities and services make assisted living an attractive and healthy choice.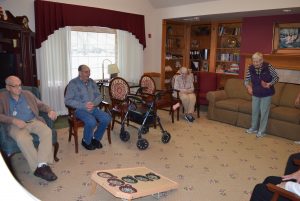 The following are a few ways in which assisted living facilities help promote healthy aging:
Assisted living communities are specifically designed to provide support with daily living needs seniors need to continue to live as independent a lifestyle as possible.
Studies show that even limited physical activity is beneficial in improving cardiorespiratory and muscle fitness, promote bone and functional health and reduce the risk of depression and cognitive decline.

 

Maplewood Village strongly embraces this concept through an established physical exercise program, supplemented by regularly planned games which provide physical and mental challenges.
Assisted living communities offer opportunities for fellowship and socialization, both of which are key ingredients in maintaining a healthy perspective.

 

Maplewood Village promotes this through regularly scheduled card nights, games, movie night and book clubs.

 

These internal activities are supplemented by external field trips for cultural events and shopping trips, helping our residents get out and about both within and outside of the community.
A challenge many seniors face is a lack of proper nutrition.

 

For many seniors living in assisted living facilities, food takes priority over many other amenities.

 

Quality food provides nourishment and proper nutrition to assist an aging adult's internal defense system in fighting off illness and declining health.

 

Maplewood Village provides balanced meals interspersed with fresh fruits and vegetables.

 

We regularly solicit input from our residents to assure that the meals they receive a variety of meal options that appeal to them while at the same time providing them with a balanced, nutritious diet.
Let's face it, aging for all of us is an inevitable part of living.   By focusing on staying healthy, one can feel his or her best at any age, experiencing higher degrees of physical and emotional health, living life to the fullest regardless of age.