Fears About Senior Living – Let's Review Them
With the aging of the baby boomers, the concept of senior living has changed from previously negative and inaccurate beliefs to positive options in the form of state-of-the-art senior housing, from assisted living for those needing some assistance with daily living activities, to independent living for more active aging adults.  The goal of these options is to provide seniors with a lifestyle which fits their needs and interests, yet also offering the necessary care to enable them to remain physically, mentally and socially healthy.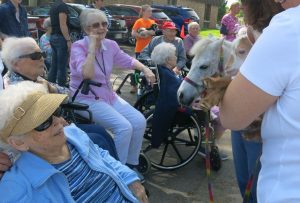 Let's look at the most common misconceptions expressed about senior living:
It will take all of my money – The initial prospect of senior living can seem financially formidable, but with knowledgeable financial planning, including the possibility of Social Security or other benefits available to seniors, senior living may end up being about the same cost as living at home. Factoring in home health care costs can result in senior living options costing less than staying at home.
I will lose my independence – Some aging adults believe that residing in a senior living community equates to a loss of independence.

 

This is a fallacy.

 

If a senior chooses assisted living, they receive assistance with cleaning, cooking and other chores that become more burdensome over time. Senior living offers greater freedom for its residents, providing them plenty of opportunity to engage in social activities which they might be precluded from living at home.
I will get sick and age faster – This concern is inaccurate.

 

It is a fact that whether you are young or old, feeling isolated or living along leads to anxiety and depression.

 

The social contact a senior community provides is integral to better health and increased quality of life via daily stimulation, planned activities and personalized care.

 

This can actually improve health and delay the onset or progress of illness.
I won't receive the care I need – This misconception might be rooted in the long standing stereotype of senior living being a place where adults drop off their aging parents with no regard to their wishes.

 

When the time to consider senior living options arises, the decision-making process should involve the entire family.

 

Ideally, the senior and the family should be equally as comfortable with the senior living option selected.

 

Aging adults living in senior living communities are entrusted to caring, compassionate individuals, knowledgeable about and motivated to provide the best senior care experience possible.
I'll be bored – False, false and false!

 

Today's senior living communities offer such a diverse choice of activities and conveniences, that there is no time to be bored.

 

Fitness, personal enrichment choices, games, and field trips are just a few choices offered.
I'll be forgotten – If a person defines themselves by their valued relationships, it is only natural to worry about being alone.

 

Moving into a senior living community does not mean the loss of relationships, rather they might become valued even more.

 

In addition to the opportunity for personal contact, senior living enables an individual to receive immediate help in the event of a health emergency.
Assisted living can be a necessary and freeing step for aging adults and their families.  The emphasis on safety and security, as well as privacy and independence, enables seniors to receive the care they need without sacrificing their dignity.