Assisted Living – Independant Living in Sauk City WI
An Assisted Living facility offers an attractive long-term housing alternative for seniors transitioning from an independent lifestyle to one in which they require some assistance with daily living needs such as meal preparation, dressing, medication management, bathing and toiletry activities.  The National Center for Assisted Living has determined that 87% of individuals residing within an Assisted Living facility, need some type of assistance with meal preparation, while 81% of such individuals need help managing their medications.   Sometimes it is just a matter of not being able to keep up with the demands of being a homeowner as one ages or losing a significant other and not wanting to live alone.
Individuals choosing to live in Assisted Living facilities still maintain a desire for, as well as some degree of independence and while in need of some assistance, they do not require the constant supervision and level of skilled nursing care provided by nursing and rehabilitation facilities.   The major difference between living in an Assisted Living Facility and a facility offering skilled nursing care is the degree of independence and control an individual has regarding daily living activities.
One particularly nice advantage common to Assisted Living facilities is that everyone has his or her apartment, a place providing them with security, privacy and generally, no housekeeping concerns.  A place to which they can add their own personal touch to make it feel homey, to bring those special items which were part of their home to their new apartment.   For example, a person can choose to bring that comfortable bed that they've slept in for years; in doing so, providing a further measure of comfort and constancy, even in the face of a major change in living accommodations.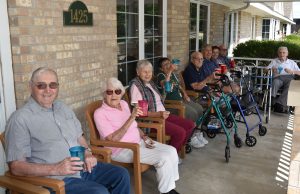 Another valuable benefit of Assisted Living can be found in the expanded opportunities for socialization ranging from shared daily dining opportunities to a diverse array of regularly scheduled group activities.  Many Assisted Living facilities schedule off-site activities as an added enhancement, helping their residents get out and about in the community so that they make take advantage of and enjoy opportunities that they might not otherwise be afforded.   Recognizing limitations for seniors to travel on their own, a few Assisted Living facilities offer transportation to and from medical appointments, as well as arranging for on-site religious services and activities that the resident's family can partake in.
At Maplewood Village Assisted Living, Sauk City, WI, the staff is committed to providing care encompassing those aspects of life most important to seniors as they age, independence, dignity, respect, quality of life, and personal care choices.